Capacity: 28We offer accommodation in a nice hotel in the center of Semily , there are one, two or more bedrooms. There is a restaurant , pub and bowling bar. Hotel has a lift and wheelchair access, free wi- fi available. Accommodation - Rooms Rooms are equipped with bathroom, TV, telephone, fridge and kettle. All rooms include free wifi . Some rooms are wheelchair accessible, there is also an elevator . Gastronomy We ...
from
14,50 €
Price pro person/night
---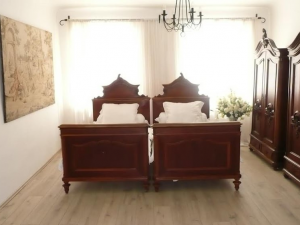 Capacity: 10Newly exposed apartment house in the center of the Bohemian Paradise offers high quality accommodation in 2 separate apartment units. Apartment house is situated at an altitude of 643 m near the heart of the Bohemian Paradise and its famous dominant. This location is also an ideal starting point to neighboring Krkonose. Apartment house consists of 2 separate units. Each of them has a fully equipped ...
from
23,00 €
Price pro person/night
---

Capacity: 40In the historic centre of the town of Jičín, the heart of the Bohemian Paradise, you find our well-established JIČÍN Hotel with a stylish restaurant. The Jičín Hotel offers an accommodation in 12 stylish double rooms and 4 apartments equipped with shower, toilet, TV with satellite reception, minibar and telephone. Free Internet access via WiFi is available in the whole area ...
from
19,00 €
Price pro person/night
---

Capacity: 80The three- star hotel is conveniently located in the very heart of historic town centre of Jičín next to Valdice tower and just a few steps away from Wallenstein square. Its lodge is suitable for outings to natural beauties and sights of Bohemian Paradise or even to Giant Mountains /Krkonoše/. Our hotel provides capacity of 33 rooms up to 80 persons. Rooms are devided into 3 sections ...
from
9,50 €
Price pro person/night
---

Capacity: 91The Hotel Karel IV. (Charles IV Hotel) has an optimal location in view of the fact that it is situated a few minutes from the town centre in a peaceful residential quarter near to a large park, adjoining the River Jizera valley. This is the starting point of many tourist paths, which may be used both for tourism as well as trips on mountain bikes. Turnov itself is a centre of one of the most beautiful ...
from
14,00 €
Price pro person/night
---

Capacity: 86EA Chateau Hotel Sychrov is situated on the edge of the Bohemian Paradise area, very close to the state Chateau Sychrov, less than 85 km away from Prague. You can drive here within one hour by the motorway E65 in the direction of Liberec. The hotel with the capacity of 86 beds in the spacious quiet rooms is designed in a luxury way, air-conditioned and equipped to a high standard. Some of the rooms ...
from
50,50 €
Price pro person/night
---

Capacity: 70Hotel Skala is situated in the village Mala Skala on the left bank of river Jizera, about 90 km far from Prague, has its own carpark, good communication by a car, bus or train. The hotel capacity is 70 beds, 4 single, 15 double and 10 more beds rooms, all the rooms have their own facilities and TV+SAT. Hotel sevices include sauna, billiard table, for order massage. There are many activities you can ...
from
14,50 €
Price pro person/night
---