Do you want to obtain a non-binding offer first?
Are you not sure what is in price included?
You are a bigger group and would like to get a discount?
Are you interested in a gift voucher?
In this case, please contact us via the inquiry form where you refine your request
Request
From us recommended properties nearby:
---

Capacity: 70Hotel Skala is situated in the village Mala Skala on the left bank of river Jizera, about 90 km far from Prague, has its own carpark, good communication by a car, bus or train. The hotel capacity is 70 beds, 4 single, 15 double and 10 more beds rooms, all the rooms have their own facilities and TV+SAT. Hotel sevices include sauna, billiard table, for order massage. There are many activities you can ...
from
14,50 €
Price pro person/night
---

Capacity: 91The Hotel Karel IV. (Charles IV Hotel) has an optimal location in view of the fact that it is situated a few minutes from the town centre in a peaceful residential quarter near to a large park, adjoining the River Jizera valley. This is the starting point of many tourist paths, which may be used both for tourism as well as trips on mountain bikes. Turnov itself is a centre of one of the most beautiful ...
from
14,00 €
Price pro person/night
---

Capacity: 8We can offer you a chalet which lies on the border of the Giant Mountains National Park. This is a very attractive place for both winter and summer holidays. It is a very quiet area, which is a short walk from major ski resorts for winter sports. The cottage stands on a grassy plot in the hills. Under cottage flows a small stream that can be seen with the cottage porch. The building is a two storey ...
from
13,50 €
Price pro person/night
---

Capacity: 54Looking for peace and tranquility with the comfort range of services? Visit Harrachovská Hacienda, which will enchant you with its warm atmosphere. The Hacienda rooms are equipped with luxurious rustic furniture made of solid natural wood, TV-SAT, toilet and shower rooms. There is a bright dining rooms - restaurant - lounge, entrance hall with chairs and a heated ski storage room with drying ...
from
23,00 €
Price pro person/night
---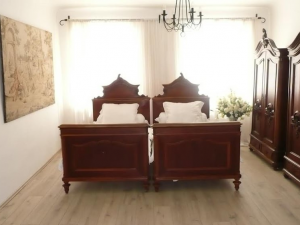 Capacity: 10Newly exposed apartment house in the center of the Bohemian Paradise offers high quality accommodation in 2 separate apartment units. Apartment house is situated at an altitude of 643 m near the heart of the Bohemian Paradise and its famous dominant. This location is also an ideal starting point to neighboring Krkonose. Apartment house consists of 2 separate units. Each of them has a fully equipped ...
from
23,00 €
Price pro person/night
---