Capacity: 125A four-star hotel U Beránka is located in the very centre of Náchod, a town in Western Bohemia. The hotel offers a wide range of rooms, all are equipped with WC and bathroom. In the past, we had the honour to welcome such honourable guests as Václav Havel or Josef Škvorecký. An inspiring atmosphere of a cultural landmark, a wide offer of accommodation services, a ...
from
26,50 €
Price pro person/night
---

Capacity: 27Challet "Relax" is located in the area Adrspach and Teplice rocks, in the municipality Jirasekfelsen, 3 km from the town of Teplice nad Metují in the beautiful nature of the reserve Broumovsko on Meerreshöhe 650 m. Accommodation - Rooms In the object are 3 apartments available. One apartment is on the ground floor and one is on the top floor . Each apartment has its own entrance to ...
from
11,50 €
Price pro person/night
---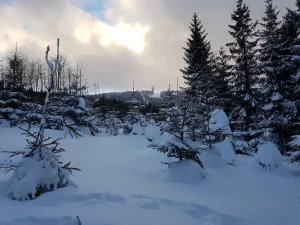 Capacity: 130The hotel has an excellent location in the region are on the square in the historic center of town, right in the heart of the PLA Broumovsko sight of the Benedictine abbey. In Broumov you can visit many wonderful cultural monuments, headed by a Benedictine monastery. You are literally on your trips to Adrspach-Teplice rock cities, on a desktop and mountain Ostaš Hejšovina to Broumovské ...
from
26,50 €
Price pro person/night
---

Capacity: 26Family Pension Dita is located in the attractive environment of the Adršpašsko-Teplické Skály Rocks. This expansive reservation of romantic sandstone rocks is a paradise for lovers of walking. The abundance of marked tourist paths in the area take you to typical rock towns and the nearby Broumov walls, including the Ostas table mountain. The pension is run by our professional ...
from
9,50 €
Price pro person/night
---

Capacity: 41Hotel Javor is situated in protected landscape area of Adrspach-teplice rocks in the municipality Dolni Adrspach. In our hotel we are offering above standard accommodation in two storeyed apartments, double room studios with own terrace or classic double rooms. Hotel Javor offers an accommodation in four types of rooms: single - classic double room (possibility of twin), Comfort - double room studio ...
from
29,50 €
Price pro person/night
---

Capacity: 34The boarding-house is situated in healthy and beautiful countryside in the Teplice-Adrspach Rocks. You can relax and enjoy nature in quiet surroundings. It take advantage of excellent opportunities for hiking, skiing and other sporting activities in summer or winter. There are double rooms with the possibility of 1 or 2 extra beds. Each room has wc and shower. The accommodation is offered with own ...
from
9,50 €
Price pro person/night
---

Capacity: 34New family pension Skaly is situated in a very attractive area of the national protected area Broumovsko, in the neighborhood of Teplice-Adrspach Rock Town (200 meters from entrance) with wide range of possibilities of tourism, bicycle trips and rock-climbing. The complete capacity of pension is 36 beds including the rollaway beds. The rooms have twin-beds with optional rollaway beds, there are also ...
from
19,00 €
Price pro person/night
---

Capacity: 20Accommodation \"Pod Krizovym vrchem\" is located in the heart of the picturesque town Adršpach. The view from the apartments offers a unique view of the rock greats and Cross hill. With its exclusive location is close to everything within reach - The rock circuit, cycling, climbing center, information center, cruise boats, horse riding, in winter groomed cross-country trails. The guest house ...
from
13,50 €
Price pro person/night
---

Capacity: 63The hotel VEBA very simply means the cosiness and pleasant atmosphere. Its charm forms the building itself, the villa from the beginning of the last century, hall, dining- room, coffee- room, summer terrace and lounge. In the area of the hotel is located depandance and solitaire with the other rooms and also garden house with grill. The accommodation capacity of the hotel and depandance is 31 rooms ...
from
30,50 €
Price pro person/night
---

Capacity: 17We offer accommodation in pleasant surroundings of the newly reconstructed building from 1867. The building is located about 1km from the entrance to the rock city. In a quiet family atmosphere you can spend pleasant moments not only for a holiday, New Year\'s Eve celebration or corporate event, but also as a rehabilitation stay with a massage or using the gym. Newly constructed playground. We offer ...
from
13,50 €
Price pro person/night
---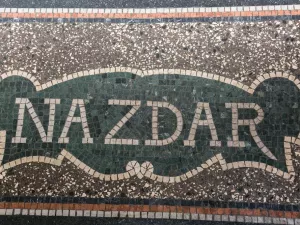 Capacity: 42
from
14,50 €
Price pro person/night
---

Capacity: 68We have prepared for you 30 luxurious double rooms equipped with the most comfortable furniture and furnished in a castle-like manner. The rooms are divided into three classes – economy class, standard class and superior class. Our romantic attic rooms offer a peerless view of the Czech-Polish border with the Kladsko basin. All beds are of good quality and very comfortable. Every room is equipped ...
from
28,50 €
Price pro person/night
---

Capacity: 8The house is situated in an attractive environment Adrspach-Teplice Rocks. A large nature reserve romantic sandstone rocks is a paradise for lovers of hiking. Many marked hiking trails take you to the typical rock and the nearby rock towns. Everything is close at hand - rock city, cycling, tennis courts, a ropes course, horse riding, sailing on boats. Apartments are in a family house situated in a ...
from
13,00 €
Price pro person/night
---

Capacity: 45The \"Pension Selsky dvur\" consists of two buildings on the same site. The Pension is situated in the calm, picturesque village of Pekov, in the north of Eastern-Bohemia in the Czech Republic. It is in the middle of the beautiful nature reserve of Broumov, between the small towns of Broumov and Police nad Metují, and close to the fascinating sandstone rocks of Adrspach and Teplice nad Metují. ...
from
12,50 €
Price pro person/night
---

Capacity: 17Pension is located in scenic village on the east in neighbourhood with Adrspaske and Teplicke rocks. The outskirts is suitable not only for climbing lovers, but even for tourists, skiers and the plenty of bike trails can make happy both pro and amateur bikers. We have a barbecue in the summer, at our garden grill. We will reserve you a horse ride in the nature or tennis on a clay court for an extra ...
from
13,50 €
Price pro person/night
---