for school groups
In case you are looking for accommodation for a school or youth group, please fill in the following form. We can offer you the most convenient option with price discount guarantee!
From our offer...
30

Accommodation options found
Capacity: 118Hotel is situated 1000 m above the sea level, directly in the ski area on the slope \"Smrk\". It offers great conditions for all kind of skiing and snowboarding. Just next the house there is ski lift with lighting for the night skiing. Accommodation in 1-10 bed rooms with WC/shower and LED/TV, some of them with WC and shower in the floor. For the hotel guests there is also restaurant (96 places), ...
from
11,50 €
Price pro person/night
---

Capacity: 126Hotel Javor is located in the heart of the Krkonose National Park, in the skiing and tourist centre of Mala Upa, 900 metres above the sea level. Near skiing areas offer down-hill and cross-country tracks of different difficulty level. Thanks to its location the hotel is an ideal starting point both for hiking and cycling along ridges and mouintain valleys of the Krkonose Mountains. Double and threee-bed ...
from
15,00 €
Price pro person/night
---

Capacity: 112cosy mountain pension Mileta is situated in a quiet place surrounded with forest, ca 15 min. from the centre of Velka Upa. It offers double, triple and quad rooms all with own facilities. The pension has a TV room with sat TV, a restaurant with bar, in summer parking. Darts, billiard and big ski room. Ski lifts are nearby. Newly there is whirlpool and sauna. For groups transport to pension and ...
from
17,00 €
Price pro person/night
---

Capacity: 35located in 778 m above sea level, not far from the centre, offers this very nice family house accommodation in simply but very nice equiped rooms with shared facilities (new). Restaurant with domestic cuisine, microwave, fridge and kettle for guests available. Gaming club for children with video games, skittles, darts, PC with internet connection. Parking by house - free.
from
11,50 €
Price pro person/night
---

Capacity: 52SKiMU Sport Centrum is an accommodation and sports facility near the ski run in Pomezky, in the heart of the village Mala Upa in Eastern Krkonose. We offer plenty of benefits for guests staying at SKiMU Sport Centrum. Luxury four-bed and six-bed suites with a kitchen and TV can accommodate in total up to 52 people. The apartments are fully equiped - fridge, cooker, dish washer, cooking utensils. Also ...
from
17,00 €
Price pro person/night
---

Capacity: 34Pension Horalka is situated at an altitude of 850m above sea level and a short distance from the ski piste "Hromovka" . Distance to the centre of Spindleruv Mlyn is a pleasant 15 minute walk down the mountain side. Guests can furthermore access and return from the pistes by ski or snowboard directly from the pension, simply skiing to the ski piste "Hromovka" from the Pension's ...
from
17,00 €
Normal price
19,00 €
Price pro person/night
---

Capacity: 40Enjoy your holidays in one of the most picturesque valleys of Krkonoše. Pension U Kostela 113*** offers unique terrace views toward Sněžka and Černá Hora peaks. This is the best place to fully relax, recharge and enjoy the comfort in the nicest nature in the Czech Republic with peaceful atmosphere and completely forget about daily busy routines. Pension U Kostela offers wide range ...
from
17,00 €
Price pro person/night
---

Capacity: 40lies at an altitude of 1240 m asl and is located in the central part of the Giant Mountains - in the area known as Zadni Rennerovky, approximately 7 km from Strazne and Vrchlabí. Ceska Sporitelna Cottage offers accommodation in eight apartments with private bathroom and shower. Other rooms have showers, but toilets are common in the hallways. Total capacity is 40 beds. The cottage is suitable ...
from
14,50 €
Price pro person/night
---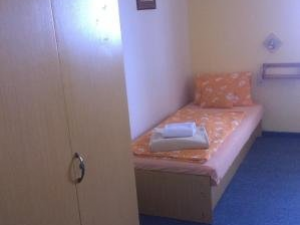 Capacity: 57Pension Blesk is located in the most beautiful Giant Mountains village, quiet and charming location in Mala Upa. Nice and comfortable accommodation is ready for guests 15 rooms, which are decorated with old pictures of the Giant. Pleasant and relaxing space for kids games provided adjacent garden with seating and a playground. The organizing various corporate events is prepared lecture hall with a ...
from
13,50 €
Price pro person/night
---