Hotel Lomnice ***, Svatopetrská 125, 54351 Špindlerův Mlýn
---
---
Approximate distances:
Centre:
50 m
ski lift:
400 m
Hotel Lomnice is located in the center of Spindleruv Mlyn in the best-known mountain resort in the Czech Republic. The hotel building is Lomnice Bavarian-style architecture and the whole object is more than 120 years old

Lomnica Hotel is located 400 meters from the chairlift in St. Peter. Its location is ideal for winter skiing holiday as well as for hiking and cycling trips. Near the hotel guests will find our e-mail, shops, ski and mountain bike. The hotel has parking, an ATM. The hotel is Hotel Apetit restaurant offers unusual dining experience. Possibility to look under the hood of the cooks have just in our open kitchen. We offer both traditional Czech specialties as well as excellent Argentinian steaks.


Accommodation - rooms
Accommodation is provided in 2 and 3 bed rooms and one suite. Throughout the hotel you can connect to free WiFi. Each room is equipped with a shower and toilet.


Gastronomy
Restaurant Apetit. The restaurant is literally OPEN EN and Rom. You are very welcome to view our open kitchen where you can like the following: day care, fresh duck with orange and forest honey, lamb shank osso Buco-and your choice will prepare fresh fish and steaks. We are ready to fulfill your wishes and gourmet appetites. All raw materials used in our kitchen is fresh and the selection of their care is taken with great care. The truth of these words can convince a day in the 1 an open kitchen in Spindleruv Mlyn. We believe that for you will come back in a friendly environment, careful and attentive service, and mostly good, honest and traditional cuisines.


Neighbourhood
Spindleruv Mlyn is one of the most popular winter sports resorts in the Czech Republic. Spindleruv Mlyn is ideal for winter sports. Skiing and cross-country trails are open to 5 months of the year. Professionally groomed ski slopes are different kinds of difficulty for a total length of 25 km. Total of 14 lifts provide transportation capacity of 17,500 skiers per hour. With one ski pass can ski for more than 25 kilometers of groomed slopes at ski resorts 4 different (St. Peter, Medvedin Upper Mísečky Elbe). Most of the slopes are lower in the case of artificial snow snow. Spindleruv Mlyn offers many attractions, even during the summer season. In the summer months are ideal for hiking and mountain biking.


Selected services and equipment:
Swimming pool - indoor
Conference/public room
Lecture hall
Sauna
Info service
Restaurant
Room service
Pets
Ski lift
Disco
Children playground
Parking
Internet
Bicycle rental
Cinema
Mushroom picking
Fishing
Non-smoking area
Coffee-bar
Catering services
Organization of cultural and sports events
Taxi
Bicycle storage room
Tennis hall
Sports equipment rental
Ski rental
Sightseeing flights
Massages
Garden
Ski storage room
Booking:
From us recommended properties nearby:
---

Capacity: 108Hotel Barbora is located in the very center of the Krkonose mountains in the well known pictoresque ski and tourist town Spindleruv Mlyn. The hotel is situated above the center of town. Its windows and summer terrace offer a beautiful view of the town square and of the ski slopes of the near-by ski resorts Svaty Petr and Medvedin. Both resorts are about a 10-minute walk, free ski bus stops close to ...
from
16,00 €
Price pro person/night
---

Capacity: 38The Hotel Grand is a very nice hotel and thanks to its location is one of the most visited hotels in Spindleruv Mlyn. The Grand Garni hotel is right in the centre, in the year 2006 was new reconstructed and renovated and offers 14 luxury rooms with internet connection and minibar, also Internet Café is in the reception. It is an ideal place for skiing in the winter and also cycling in the summer. ...
from
21,00 €
Price pro person/night
---

Capacity: 18Pension is situated in a center of Spindleruv Mlyn nearby hotel Windsor with a view on centre of Spindleruv Mlyn and Medvedin. Pension Centrum offers five double rooms with extra beds posibilities. You can find there also common room - dining room for 20 people, ski and bike storage room. Parking for 100 CZK/day across the street, or free on the central car park. For the geusts there is also fridge, ...
from
14,50 €
Price pro person/night
---

Capacity: 60Hotel Lenka is located in area St. Petr, approximately 500 m from the centre of Spindleruv Mlyn. It is the most well-known tourist and sport centre in Czech Republic. The location of the hotel offers to see the natural beauties during whole year. Hotel Lenka offers the accommodation in double rooms including facilities with the possibility of two extra beds during whole year. Each room is equipped ...
from
15,00 €
Price pro person/night
---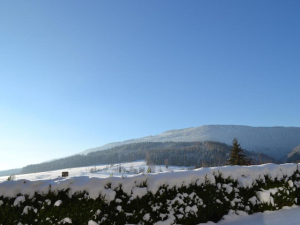 Capacity: 24Grand Apartments offers to you a comfortable accommodation in stylish double rooms and luxury apartments. Overall capacity of Grand Apartments is 7 rooms (4 double rooms with possibility of extra bed and 3 apartments). If we put 2 double rooms together it could be 1 " family suite " with 2 separated rooms and its own bathroom. All of rooms are furnished with wooden furniture, shower, WC, hair dryer, ...
from
19,00 €
Price pro person/night
---