Accommodation Plzen county (

8

x)

Capacity: 68Hotel Slovan - Art Deco gem Pilsen in a quiet part of town. Historically valuable building architecturally richly decorated with absolutely unique internal staircase creates a unique atmosphere. Hotel excels size of its interiors. Rooms, restaurant, corridors and main staircase are all extremely spacious and impressive. Guests are offered a monitored parking in an enclosed courtyard. Accommodation ...
from
28,50 €
Price pro person/night
---

Capacity: 24The Hotel Rango is hotel with 12 rooms in a cosy building that is a part of the historical centre of Plzen - Pilsen. The excellent transport accessibility and proximity to the central square are ideal for use by tourists and guests who come to Pilsen on business. All rooms are equipped with own bathroom with a shower and WC, SAT TV, telephone with direct dialing, connection to the Internet and a ...
from
27,00 €
Price pro person/night
---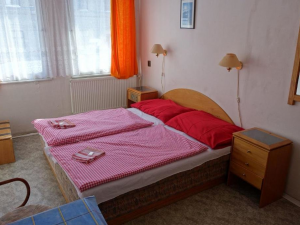 Capacity: 111The Victoria Hotel is sought after and popular for its successful combination of high-quality service and stylish interior architecture. The walls of the hotel are hanged with interesting pictures. That is precisely what creates an atmosphere of comfort, peace and intimacy. All interior is variously designed and is remarkable. The Victoria Hotel offers an accommodation in 56 cosily furnished rooms ...
from
26,50 €
Price pro person/night
---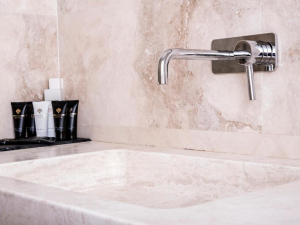 Capacity: 40Hotel is located in the heart of Pilsen, approx. 5 minutes walk from the historic square. The bus station is located 10 minutes walking around the train. 25 minutes. Bus stop in the immediate vicinity of the hotel. Good transport accessibility of arrival directions. We offer a certified 3-star rooms, each with its special atmosphere and unique design. Double rooms have the option to choose from DOUBLE ...
from
21,50 €
Price pro person/night
---

Capacity: 30If you decide to stay in Stříbro, we will be happy to welcome you in our hotel \"U Branky\". The hotel is an ideal base for holiday trips in the Stříbro district, or for a peaceful accommodation on your business trips. You can find the hotel by the road bridge across the river Mže. The hotel has 30 beds in single, double and four-bad rooms, each with a toilet, bathroom and television. ...
from
15,00 €
Price pro person/night
---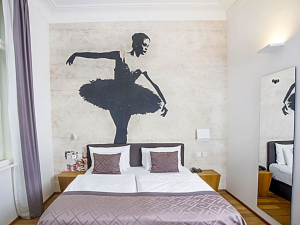 Capacity: 33The Roudná Hotel is located on the ancient "Saxon" road running from Plzeň via Žatec and the Krušné mountains to Saxony. The house, where our hotel is, was built in the style called "elektric" at the end of the 19th century by the Pašek family and is a part of a peculiar pilsner quarter of crafsmen, gardeners and merchants. Internet free of charge, fenced parking, nonstop ...
from
25,00 €
Price pro person/night
---

Capacity: 190Hotel Primavera has got an ideal access from the D5 motorway (3 mins by car), in the direction from Prague or Nürnberg (Germany) and is situated in a quiet location in Brucna, not far away from the city centre. A shopping centre and a multicinema (with 9 theatres) is nearby (only 1 min by car). We offer first-rate accommodation in 87 double rooms with air-conditioning (all with the possibility ...
from
44,00 €
Price pro person/night
---

Capacity: 50Best Western Panorama Hotel Plzen is situated in an attractive location nearby the city centre, not far away from ideal access roads, in a quiet resident neighbourhood, just beside a small lake and Kosutka park. Best Western Panorama Hotel in Pilsen offers first-rate accommodation in singlerooms, doublerooms and suites. Total capacity of the hotel is 50 people. All our rooms offer bathroom with a ...
from
34,00 €
Price pro person/night
---